Fantasy Football Testimonials
Unsolicited comments from our customers!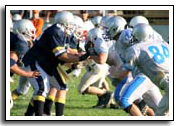 We've built up a pretty loyal following during our years of running fantasy football leagues on the web. Following are some unsolicited comments from our customers.

Also, check out Twitter, online newsgroups and FootballGuys.com, TheHuddle.com and FantasySharks.com for other opinions on MyFantasyLeague.com. Keep in mind that we have no control over the things posted on these sites about our services, so you are sure to get unbiased opinions there.
"You guys have an amazing web-site. I never thought I could incorporate all the crazy rules of my league in one site, but you have done it, thanks a lot."
Jason D.


"Last season was our first on your site. Let me just say, your site was slightly better than spectacular. Customer service was two points above that!! Many thanks to all at MFL.com."
Mark T.


"Let me say that this, our first year with your company, met all expectations we had for a Fantasy Football Service. We had always played at Yahoo before, but we are definitely staying with your company for next year as well as future years."
John B.


"We had done our league on Yahoo for years, we also tried Sonic Fantasy, and I've also done leagues in CBS Sportsline and ESPN, and MFL blows the competition away. We've all been very impressed with the site and all of the capabilities."
Ron R.


"You have an awesome software for a great price and service next to none."
Thomas H.


"I just wanted to complement all of you for a spectacular fantasy football site. Our league has only been here for this season, but we are coming back for sure. From the network administrators keeping the computers online, the software developers for implementing robust and effective software and continuing to improve it, the graphic artists for all the wonderful helmets and logos, the support staff which has really gone above and beyond the call of duty, and all of the other people who have made this happen - YOU ARE ALL AWESOME!"
Scot S.


"I can't say it enough. You guys are pros. There's nothing else to say."
Ben L.


"All I can say is I'm never leaving. This is my 4th year using MFL. I'm also a team owner in 3 other leagues which happen to be used on Fanball. There is no comparison... You guys have a customer for life. To me, your customer service defines "above and beyond the call of duty." Just do me a favor and never sell the company. If that ever happened and the service changes, I just may quit fantasy football altogether."
Joe M.


"This system is absolutely great. I currently run a league with 30 guys on cbssportsline, and I also play in a league that is run off your website. They don't compare! Next year, not only will I continue to play in the league off your software, but I will be bringing the league that I run over as well."
Tony D.


"In addition to the flexibility of your site, the response time for your customer service requests is outstanding. I had so much fun participating as a commissioner in one FFL being run by you folks that I set up another with friends and family, also operating under your guidance. Those members of my leagues that are in other FFLs are using different league management services that cost more and that do not provide near the support that we get from you. Each has told me that they will lobby strongly for your site next year and, without a doubt, utilize your service for any new leagues that they would like to originate. I think we'll do our best to keep you busy next year :) Again, thank-you for making my job as commissioner, in both leagues, a snap!"
Jeff C.


"I just want to complement you and the rest of the guys with MFL. I have no idea how big your operation might be but you have without a doubt set a new standard when it comes to customer service. I am currently playing in three leagues that are hosted on your service and serve as the Commissioner on one and assistant commissioner on two others and because of you our work is that much easier. We actually get to enjoy the fantasy football season."
Brian B.


"The support for his league has been unbelievable. Every request I have made has been handled quickly and efficiently. Thanks to all involved, you folks are the best!"
Craig R.


"You and the entire support team/group are unbelievable. Where do I begin. My Fantasy League support is prompt, professional, and precise when amending requests and reviewing unique questions. I am a loyal customer who will remain so for the duration of the VBFL. Furthermore, I will continue to recommend your website/software to everyone I talk Fantasy Football with. My sincere thanks."
Stephen Y.


"I'd like to take a minute to say "THANK YOU" to everyone at MFL for the hard work and outstanding service that you've provided. Our league is in it's second year using MFL and I've had a bunch of compliments concerning the site and all of the owners are pleased, and so am I. Keep up the good work."
Brent P.


"Your support at MFL.com is better than anything, anywhere!"
Dom K.


"Outstanding. Live scoring was tight as a snare drum and the site was rolling along even though it was a high demand weekend."
Message Board Post.


"I just wanted to let you know that I have received nothing but praise from our league members for signing us up for your league management. Everyone is delighted with the ease of operation and the wealth of information you provide. I sure do appreciate the time savings. Thank you for such a fine service."
Lucille A.


"Your site actually makes fantasy football fun once again for the commissioner."
Rossie M.


"I just want to say that your site is Awesome! Every owner in my league has given the site major kudos. Thank you for all your help."
Brad F.


"Thanks for your lightning fast response. As always, MyFantasyLeague.com is a perfect example of what other sites should be."
Henry H.


"I can't see why ANY other league would not want to use your service , as it is 100% less work than we were previously used to, and far more efficient with the links etc. Thanks again and I am looking toward enjoying a season as an owner / commissioner and not a commissioner / slave to the league."
Warren S.


"You guys rock! Let me just say, also, that I have been more than impressed with your service this year. I brought my league over from Sportsline this year, and have been more than satisfied. You guys are providing without a doubt the best fantasy football service out there. Our league will be with you for a long time."
John S.