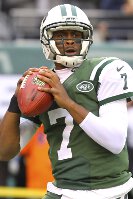 QB Geno Smith
New York Jets
Sleepers are pretty dependent on matchups and potential changes in usage. Matchup data from last season isn't all that reliable; we'll need a few weeks before we can fit that piece into the puzzle. And we've all spent several months now trying to project usage, so we'll have to wait for things to change to identify sleepers by that method. So instead, here are a few players who could greatly exceed their draft-day price. QB Geno Smith, NYJ From a passing perspective, Smith was bad last year. Worst-passer-in-the-league bad. Among quarterbacks who took at least 50 percent of their team's snaps, he was dead last in QB rating and completion percentage. He was next to last in completion percentage when under pressure and when throwing on play action. Despite all that, he still managed to finish as the 20th-best fantasy quarterback. The safety net is his rushing production. Smith's 72.6 fantasy points accumulated via rushing production were the third-most among quarterbacks, behind ...
FFToolbox's Editor-in-Chief Matt De Lima finished 15th out of 133 participants in expert draft accuracy last season, so readers can rest assured that relying on our 2014 rankings should increase your ...
QB Colin Kaepernick, SF Kaepernick is not a top-10 quarterback this season and you could argue that he's barely in the top 15 QB. Nonetheless, Kaepernick starts off the season with back-to-back ...
1) Muhamed Sanu, WR, Cincinnati - Sanu has suddenly become a player of interest after posting 7 catches for 176 yards and one touchdown this preseason. It's nearly a ...
This will be an abbreviated edition of Wally's World as we all take a deep breath in anticipation of Week 1 and some actual NFL football action. For the sake of full disclosure I will state front ...
MFL Site News
Friday, Aug 29, 2014
The following player position changes will be made on Saturday, August 30th, to bring our player database up-to-date ...
Thursday, Aug 28, 2014
With kickoff less than a week away, we are excited to announce a Partnership with DraftKin...
Tuesday, Aug 19, 2014
The inaugural season of the FantasyChampionship.com is off to a great start with multi...
Sunday, Aug 17, 2014
Now that the fantasy football draft season is rapidly approaching, we have several tips to help you get ready for your ...
Friday, Aug 15, 2014
One week left to earn a Free MFL10s Entry from DraftKings.com! Our popular ...
Tuesday, Aug 12, 2014
Many of our customers enjoy access to their MyFantasyLeague.com league pages from their iPhone, Android, or other ...
Sunday, Aug 10, 2014
Draft your way to $200,000 in the FantasyChampionship.com If you are looking to take your game to the next level with ...
Wednesday, Dec 31, 1969